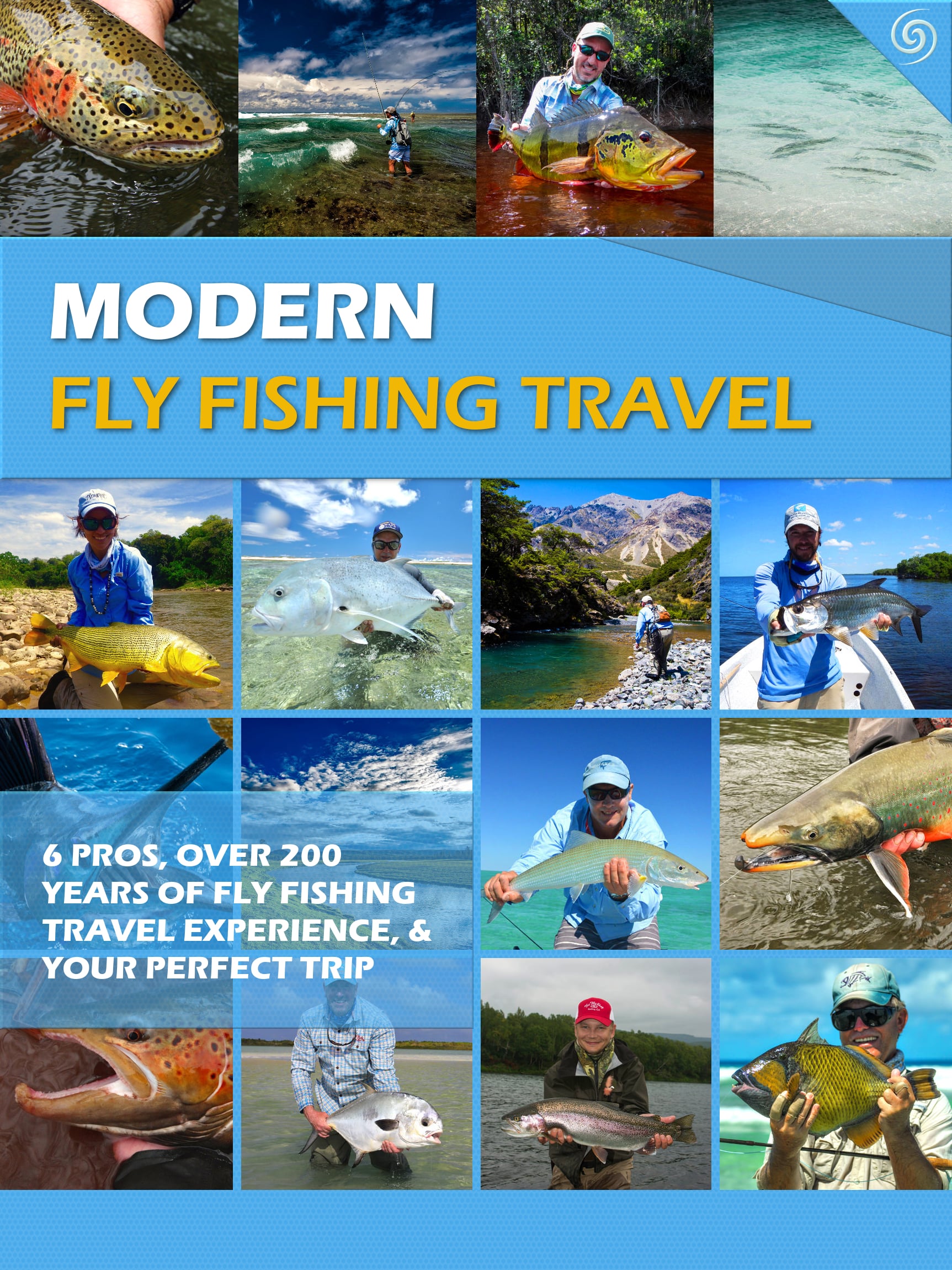 MODERN FLY FISHING TRAVEL
Because it's impossible for anyone to know everything about fly fishing travel, these 7 contributors guide you to the best fly fishing travel for your tastes.
DOWNLOAD THE 245-PAGE PDF INSTANTLY AND FOR FREE BELOW.
 THIS BOOK WILL give you…
Top destinations that are fairly bulletproof
Candid and honest opinions on the risks and rewards of a destination
A thorough treatment of cold, warm, and saltwater locations
Suggestions for specific lodges, guides, and outfitters
Over 500 high-quality images
Access to over 200 years of combined fly fishing travel expertise
3 quality/size options for downloading
Insight into destinations from 5 continents
GET MORE ON FLY FISHING TRAVEL, PODCASTS, TEMPLATES, VIDEOS, GIVEAWAYS, AND MORE.
There's nothing like watching big, white lips of twenty to thirty pound fish come up, floating like pumpkins on the surface, and dominate your popper. Sometimes they hit it so hard that the water movement from their open bucket mouth displaces the popper and they miss it.
I'm just going to throw this out there, and I'm not saying this will ever happen again, but many years ago, I and one other angler hooked 77 kings between the two of us, which set a camp record.
I think that's one of the most amazing places on earth. It's so difficult to get to. In the whole week we were there, I never saw a single jet cloud trail in the sky.
The place is truly amazing to the point that I named both of my children after tributaries [of the river system]. This is a really special place that has really kind of captured my soul.
It's like Alaska was when I first started going up there, which was probably the early seventies.
This is a country of breath-taking scenery: majestic mountains, fields of wildflowers, and sparkling waters so clean they seem like mere currents of air. Of course, there are big trout…