Fly fishing travel has exploded in that last few decades or so like a volcano on a tropical island.  The business of taking fly fishing trips has now become forever a competitive enterprise with hundreds of fly shops, outfitters, and various fly fishing luminaries trying to get their slice of the pie.  There is much to be said for the help that you can get from people who know the dance in anything you do but particularly with fly fishing.  I have benefited immensely over the years from friends, acquaintances, guides, outfitters, internet posts, forums etc., which have lessened the learning curve immensely on new bodies of water.  All things being equal, I would always want someone with me who has had experience on a piece of water that is foreign to me.  On the other hand, I've taken dozens, if not hundreds of fly fishing trips, where I simply did the research myself, and I love this experience as well, but in most cases I would welcome local, or local-like input.  In the realm of fly fishing travel, hosted trips offer a unique way of experiencing a successful and relatively problem free trip.  Below are some reasons for going on hosted fly fishing trips.
HOSTED FLY FISHING: THE MANY POSITIVES
HOSTED FLY FISHING TRIPS ARE OFTEN CHEAPER
When you go on a hosted trip, you can almost always get a better deal on the trip then if you were to go it alone.  1) This is simply by virtue of the fact that you get the double occupancy rate, which is much cheaper than the single occupancy rate.  2) What's more, you can often get special deals that the outfitter has arranged with a particular lodge.  3) Ground transportation is almost always cheaper when you travel in a small group, since the cost can be divided between all passengers on board.
THE HOST/OUTFITTER IS YOUR FLY FISHING TRAVEL GUIDE
 Everything's easier when you have someone reliable there to help you.  If someone has been to a location before, they know what problems they encountered and what really helped to make things smooth.  Sometimes with hosted fly fishing trips, the host hasn't even been to the destination, but even in this case, they have talked with the outfitter extensively to get that outfitter's knowledge of the travel destination.  The best host has been to the location multiple times.  This makes travel and fishing success much better.  The benefits don't start on the trip, they begin when you are getting ready for the trip, since at the minimum they know what has been successful by way of flies, techniques, and equipment.  They will also know what to expect with casting distances, fishing environments, and realistic fishing success on multiple species.
THE HOST HAS FLY FISHING EXPERTISE
A host, above all, better be a great angler, who is ready to help with any and all angling questions.  They may not know everything, but they should help you with your fishing beforehand and while on the trip.  The best hosts make sure everything runs as smoothly as possible and help improve the skills of each person on the trip.  They're not there to be your personal rod caddie but rather a teacher and leader of this group or team if you want to get a little sportier.
HOSTED FLY FISHING AND MEETING NEW PEOPLE
A great advantage of going on hosted fly fishing trips is meeting new people.  Many people get large groups of people together and that's fine too—it really can make for ruckus dinner times with lots of laughs.  However, if you're a social butterfly and want to meet new people, then hosted travel is a great place to interact with some interesting people who share your passion for fishing and travel.
GAINING A FISHING PARTNER
Finally, hosted fly fishing trips pair you with a fishing buddy, both in your room and while fishing.  If you like the comradery of fishing with someone on the water and can't match up schedules with your normal fishing buddies, then the hosted trip works well for you.  Even if you have some buddies you still get the advantage of everything above particularly if you have an odd number in your group.
HOSTED FLY FISHING: SOME NEGATIVES
THE UNSKILLED FLY FISHING PARTNER
Having the money to spend on a trip says nothing of one's fly fishing skill, and for a day or two, you may be paired with a fishing buddy that is really bad at fly fishing.  If you aren't that good either, then this is a fun match where double commiseration abounds.  However, if you don't want to teach your fishing buddy all day or your fishing buddy is missing strikes and taking extra time at the front of the skiff, then this can be frustrating.  This is particularly the case when you are at fishing destinations where you are taking turns on the bow of the boat.  If this is not the case, then the guide should be the full-time teacher while you can largely just catch fish.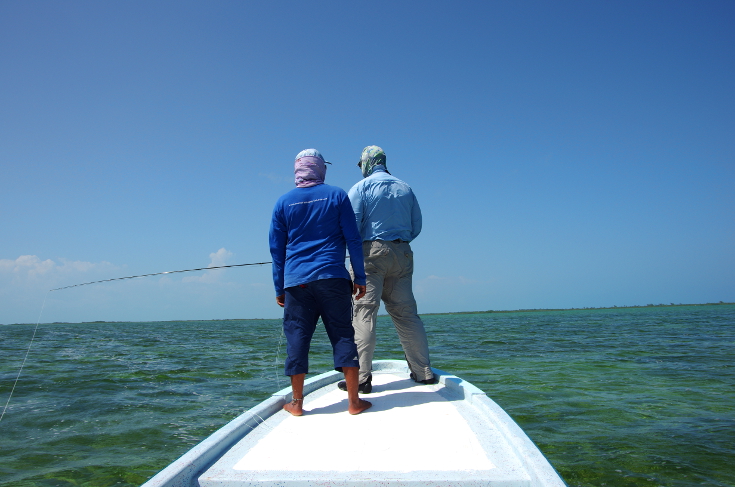 HOPE FOR A GOOD FISHING BUDDY
HOSTED FLY FISHING AND INCREASED FISHING PRESSURE
Another aspect of hosted fly fishing trips that can be a negative is the fishing pressure put on the water with a large group of people.  On one hosted trip I was on, there were three and four anglers with one guide, fishing from the boat a few days!  This was compounded by boats everywhere from both this particular lodge and the other lodges in the area.  If the water can handle it and the lodge has sufficient quality guides and equipment, then this is no problem.
YOU MIGHT LOSE A BIT OF FREEDOM
Another small negative is that you lose a little bit by having them book everything and arrange everything.  For most people, this isn't a big deal, since they just want a smooth trip with great fishing, food, lodging, and company.  However, if you want to make your own arrangements or fish on the way to the lodge, or sightsee etc., then you lose some of the benefits of hosted fly fishing trips.
HOW YOU SHOULD DECIDE WHETHER TO GO ON A HOSTED TRIP
In short, if you and one hardcore fishing buddy want to book a lodge, are fine doing all of the legwork, don't need/want a professional along to add insight and advice, don't care about the other guests/meeting other people, and don't care about the saved money in ground transportation, then you would probably be best served going alone together.  Otherwise, take the advantages that hosted fly fishing trips offer.