The Clouser Minnow is one of those flies that is always there. It's always there calling to you, saying, "You always know that you can catch some fish with me at any time. Stop messing around with the other stuff and just catch some fish. Tie me on." Like the Woolly Bugger, the Clouser is super versatile. Many fly anglers are familiar with the fact that Lefty Kreh at one point many years ago had caught at least 86 species on this fly pattern. That number may be over 100 now. Either way, the Clouser Minnow should be a staple of yours on at least some of your fly fishing venues. My personal prize catch was an obese bullfrog that grabbed my Clouser as I dragged it over some rocks to pick it up. The fly catches fish…and frogs!
THE CLOUSER MINNOW: SIMPLICITY AND VERSATILITY IN ACTION

The beauty of this fly is in its simplicity. This simplicity allows you to adapt the pattern to make it even better for your particular fishing situation. You can use synthetics, high-ties, low-ties, lots of flash (Flashtail Clouser style or otherwise), or many other techniques and materials. In fact, the Clouser has become almost a style rather than a pattern, much like the Hollow Fleye.
You can also mess with the weighted eyes. You can increase the weight. You can decrease the weight. You can add a keel. You can adjust the position of the weight on the hook for different actions. These and other reasons are why almost every angler who has pursued fish that eat minnows with regularity has used a Clouser Minnow at some point.
FLY DESIGN OF THIS PARTICULAR CLOUSER MINNOW

With this particular version of the Clouser Minnow, we work with synthetic materials: lots of flash and craft fur. Some low ties with cream-colored craft fur provide a nice base over which we can place some white craft fur. This has two main effects: the cream craft fur subtly washes out the white, and the low ties make the base wider without having to add lots of craft fur at the head.
The fly for this Clouser is tied on a jig hook, mainly because of the features of the hooks itself—it's the perfect hook when you might encounter some big fish, but it is still thin enough to sink in, without having to throw your back out on the hookset. The Gamakatsu 294 is actually no longer made, but if you look around a bit you can find some manufacturers that still have a bunch of them.
The flash is placed throughout this Clouser to maintain a nice profile. Flash is something that can be a huge trigger to fish, particularly in clear to semi-clear water, since the fish can be attracted to your fly from a long distance away. Two of my favorite types of flash are lateral line and holographic flashabou. Both of these types of flash have dozens and dozens of flashpoints versus regular flashabou, which will have one main flashpoint plus the overall flash that it provides with the strand itself. Play around with the flash though, since too much of a good thing is too much, even if it is good. Finally, because there is so much flash, it will actually provide more bulk and therefore a bigger aquatic profile in the water when you work the fly.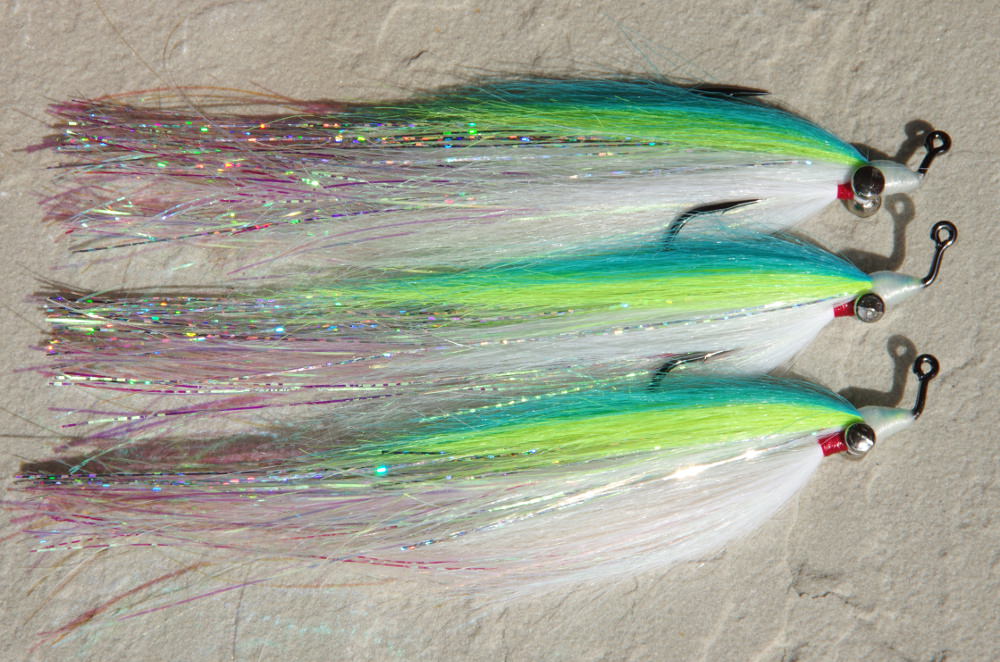 HOW THE MATERIAL CHOICES AFFECT THIS CLOUSER MINNOW

The material choices of this Clouser pattern will affect how it performs in the water. Because the fly is tied with pretty much all synthetics, it will sink a bit more than if it were tied with bunny or bucktail. This causes the fly to have a more pronounced sink on the pause. The Craft fur will buoy the fly up a bit, particularly if you tie it fuller like in the video, but overall, it still sinks faster than a fly tied with naturally buoyant materials. The action with the craft fur and the flash together is very nice.
This particular version of the Clouser Minnow has a low tie on the bottom to increase the profile of the fly throughout the retrieve. This profile is important when you have fish like shad and menhaden, which have that wider profile. You could substitute these out for longer pieces of craft fur, and this would give the fly a smaller profile but provide a little more flip to the materials, particularly if the fly is tied more sparsely. Make your decisions based on your own preferences and fishery.
The lead eyes are placed at the traditional one-third mark. This again helps the fly to dive a bit more on the pause. If you want a fly that has more of a straight motion in the water, then lighten the eyes and position them more to the center of the hook. I personally think the dipping action gives you more trigger points and really makes this fly special. There are lots of profile flies that have a nice profile with little action. Either way play around with this guy to find what works for you.
Hook: Jig hook (In video Gamakatsu 294: 3/0)
Thread: UTC 140 (white); UTC 210 or strong thread (red)
Eyes: Dumbbell eyes, plated (common 1/30 oz (in video) and 1/20 oz)
Flash Belly and Mid: Lateral line and flashabou (pearl)
Flash Top: Holographic flashabou (silver)
Body: Hareline extra select craft fur (white and cream)
Wings: Hareline extra select craft fur (white, chartreuse, and fl. blue)
Lacquer: Zap-a-gap (brushable) etc.