Louisiana redfish flies reflect the unique and amazing venue of the Mississippi Delta. The Louisiana marsh is a place where you'll find redfish and alligators swimming in the same waters. The water ranges from ultra-shallow bays to the wide-open water of the Gulf of Mexico. Thousands upon thousands of redfish and black drum call these waters home, and they are often very big. Surprisingly, fly selection can be fairly simple, but let's make sure you're set for the conditions you might encounter.
CLICK HERE TO JUMP TO LOUISIANA REDFISH PATTERNS IF YOU LIKE
LOUISIANA REDFISH AND BLACKDRUM FLIES FOR THE DELTA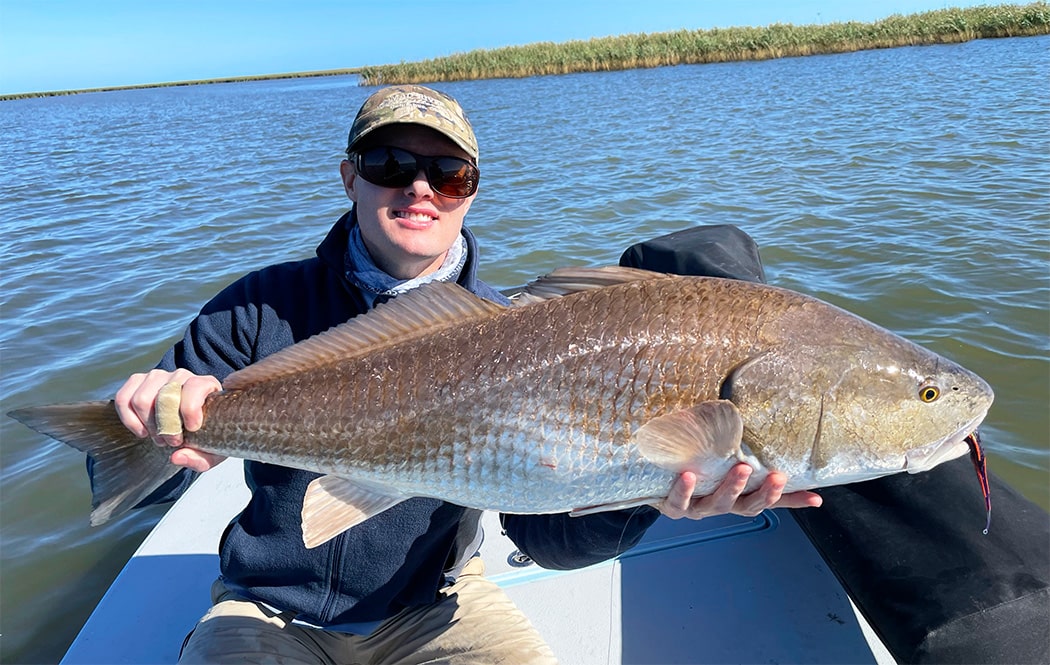 With very few exceptions, all fishing is done from the boat. On an average day, casts can be ultra-short and even at your feet. This is particularly true for the smaller bays and ponds. In open water, you will definitely have opportunities to put some distance in your cast.
These are primarily the two places you will find fish, that is, in 1) smaller bays, ponds, and tighter channels and 2) larger flats and offshore. For the most part, you'll have either singles and doubles or schools. You'll also encounter loose groups of 5 to a dozen, but you pretty much treat these like singles and doubles. Schools on the other hand are normally very easy to see and cruise around gulping shrimp or float around sunning themselves as a group.
Redfish, as a generalization, are almost always willing to look and/or move up to your fly, unless they are sluggish. Black drum will often stick to the bottom. Redfish also tail at times, and in this case, it is often hard to get them to see the fly if it is too far above them. Each fish is different, but these are the main situations your Louisiana redfish flies need to perform in.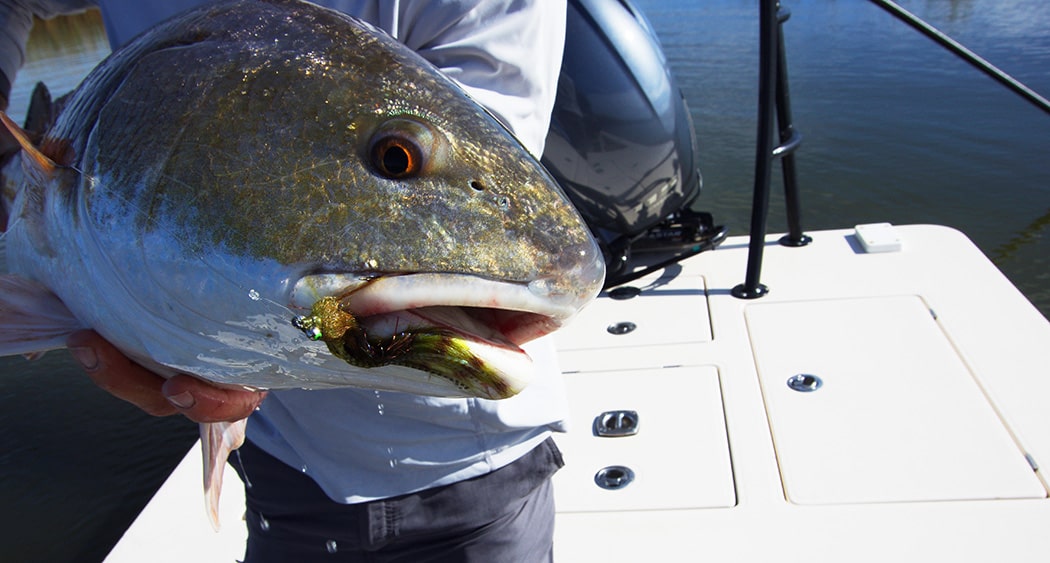 For the most part, the two most important water characteristics to keep in mind for Louisiana redfish flies are water depth and water clarity.
WATER CLARITY

Each day, finding clear water is the goal, and it's a tossup as to what is most important, sun or clear water—probably sun. The water will almost always have some sort of color to it. That means that anything you can do to your redfish flies to alert the fish of their presence in the water is a huge advantage.
Darker and brighter colors that can be seen in cloudy water are winners. We're talking black, purple, brown, and chartreuse. In clearer water, you can use more neutral colors like olives and tans.
Having a larger head that pushes water and an articulation that flaps also helps the reds feel the fly. This is why spoons and swimbaits are popular with general tackle guys. The reds and black drum can feel the thump, even if they can't see it.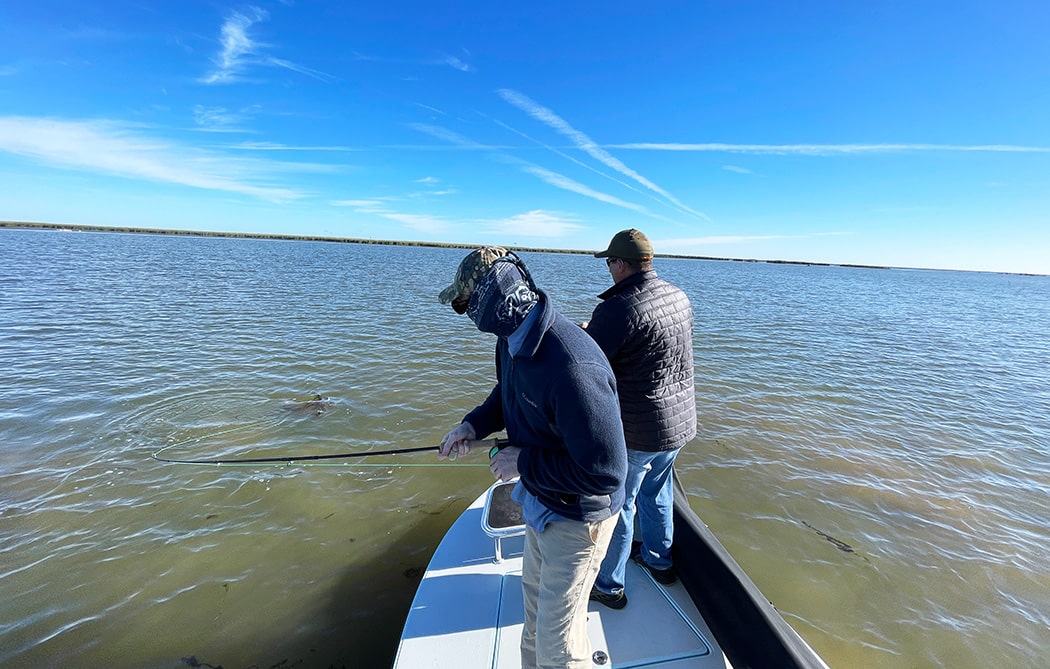 WATER DEPTH AND REDFISH FLY WEIGHT

Water depth maters a lot more when you are considering water clarity. If the fish are in a water depth of five feet and the water is cloudy, you will not see the redfish if they are sitting on the bottom. However, if the water is super clear on a bright day, you'll see them moving near the bottom.
Redfish often sun themselves as well, so they will be up in the water column even if the water is cloudy. You won't see all of them, but the sunning redfish will flash from the sun. If the fly sinks past the fish that is up in the water column, the bull red probably won't see your fly. So, you need to have a fly that sits up in the water column in this scenario. You can control this a bit by raising your rod or stripping faster, but make sure to have flies that will stay up in the water column and flies that will sink a little faster if you're targeting black drum or if the fish are mainly tailing or sitting down in deeper clear water.
Also, you might target fish that are inside of grass. Having a fly that sinks will plop down quicker if you need to make a quick shot to a fish between the grass. It also might sink into the grass. So…have flies that have different sink rates.
How sparse your flies are will also affect the drop speed. If you have a lot of natural fibers, it might take your fly a bit to sink, and if you have a sparsely-tied fly with synthetics, your fly will sink faster. A large crab-style head or bulky head, like that of the Redfish Toupee Crab, in general will also have more water resistance.
LOUISIANA REDFISH FLIES: 2 BASIC TYPES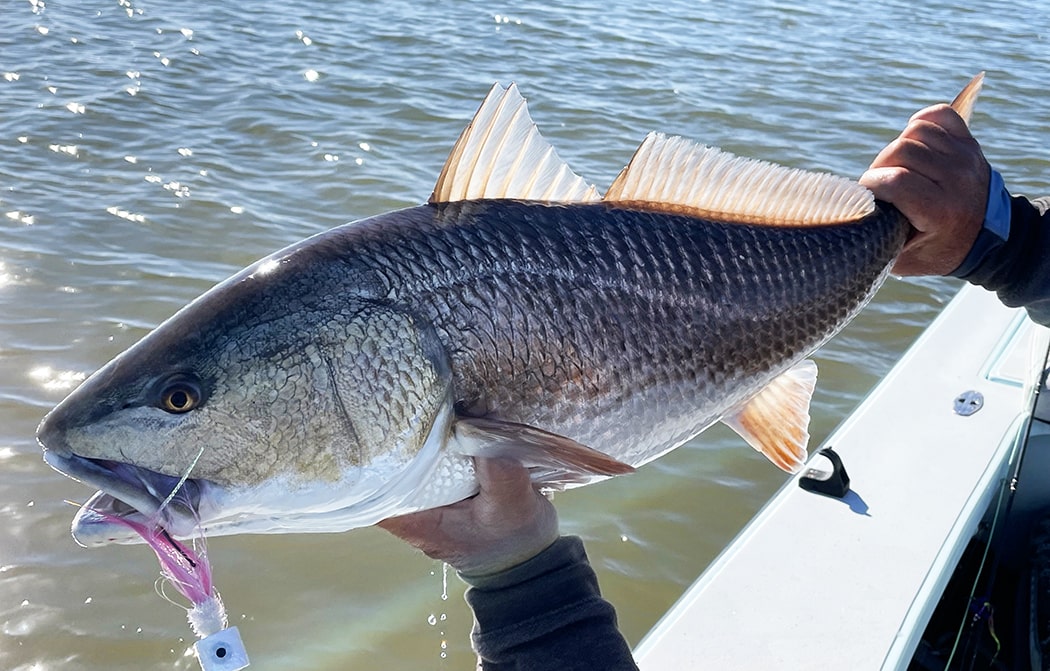 To make life easy, let's say you need two types of flies, subsurface and topwater. You will virtually never "need" topwater flies. However, you very likely will want to fish them—because it's fun! You can get away with carrying no topwater flies though.
TOPWATER LOUISIANA REDFISH FLIES

Basically, any topwater fly will work. Topwater flies are fun when the fish are in schools going after shrimp or offshore. Tube fly bangers, gurglers, and double-barrel poppers are excellent choices. These can look like shrimp or baitfish, but it probably doesn't matter. Have a selection of different poppers though, particularly offshore in case you encounter jack crevalle.
SUBSURFACE LOUISIANA REDFISH FLIES

Outside of the features already discussed above, there are three great Louisiana redfish fly options: shrimp, crabs, and large profile/articulated flies. The reds feed on many different types of foods from shrimp, crabs, and mullet, but they are opportunistic feeders and will crush a crab fly when they're gorging on shrimp. So, impressionistic larger profile flies are often ideal. I personally prefer flies that swim rather than smaller match-the-hatch style flies that have little movement.
This advice should set you up for a great trip, and you can find specific patterns and specs below for your Louisiana redfish trip.
Louisiana Redfish Fly Pattern Specs
BEST COLORS
Purple/Chart
Black/Purple
Brown/Tan
Olive
White
WEIGHT
Extra-large bead chain to large lead/brass eyes
Depends on conditions and fly
HOOK MODELS (#1 - # 4/0)
Gamakatsu B10S (1/0 & 2/0)
Ahrex SA280 (2/0)
Gamakatsu SL12-S 1x s. (4/0)
Louisiana Redfish Fly Patterns