The Redfish Toupee Crab is a great fly for fly fishing the Mississipi Delta. This fishery is unique and the best in the world for big bull redfish. Casts are almost always from your feet to about 35 feet. Longer casts are rare unless you find a somewhat shallow flat.
The water is often off-colored and you will cast to fish in one foot to six feet normally. The fish need to see the fly, and if they can feel the fly, that's even better. For this purpose, we designed the Redfish Toupee Crab.
PREY ITEMS AND DELTA REDFISH EATING HABITS

Redfish are an interesting saltwater fish to pursue on fly. They are very opportunistic in their feeding habits. They will eat massive mullets, crabs, and shrimp, and probably anything else they can get their huge bucket mouths on. They will feed at all levels of the water column and will move up and down to get a fly. I would say that it is more critical to get your fly at the eye level of the fish, the faster the redfish is moving. This is for the simple reason that it will be more likely to see the fly. A larger fly pattern will help with this as well.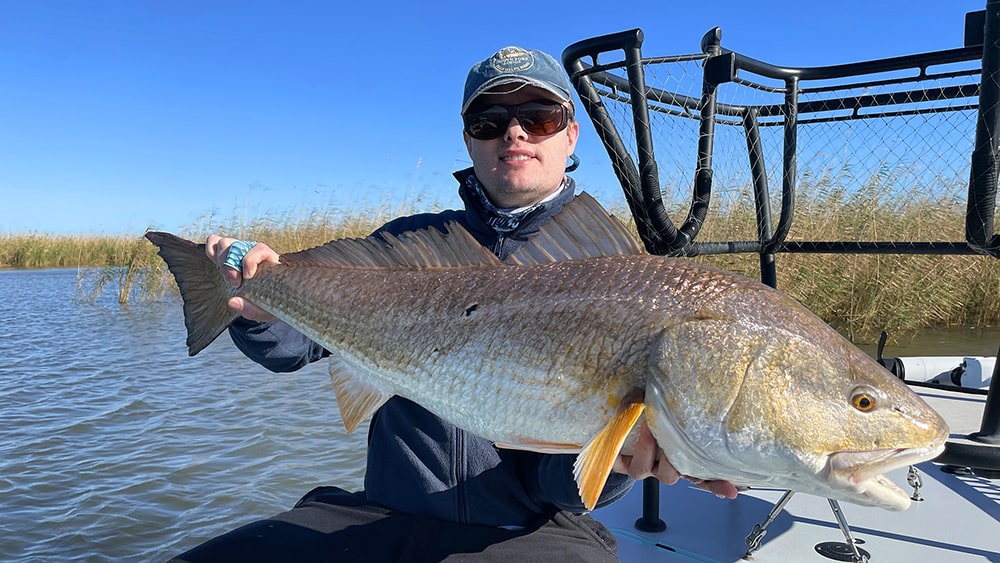 REDFISH TOUPEE CRAB FLY DESIGN

Because of the opportunistic nature of the redfish and the varied diet they consume, flies that have many features of these food sources are very effective.
At times, you might want to downsize and fish a little shrimpier style fly. This is in clear, calm, shallow water where fish are in tighter spaces for example. An Equalizer can work in these types of situations, but when you want a fly that has some size or pushes water, or when your fishing in deep, colored water, the Redfish Toupee Crab is a great fly.
The toupee (crustacean brush) is a much faster way to tie a crab. It is not quite as durable, but you can catch dozens of 20 lb. class reds on these flies if you don't smash them with your pliers.
Besides using less materials and tying crab bodies faster, your crab will sink faster because you have less material on the body. The fly keels better, and you can add features below the crab toupee like flash or more rubber legs. This fly should be a main part of your flies for Louisiana redfish.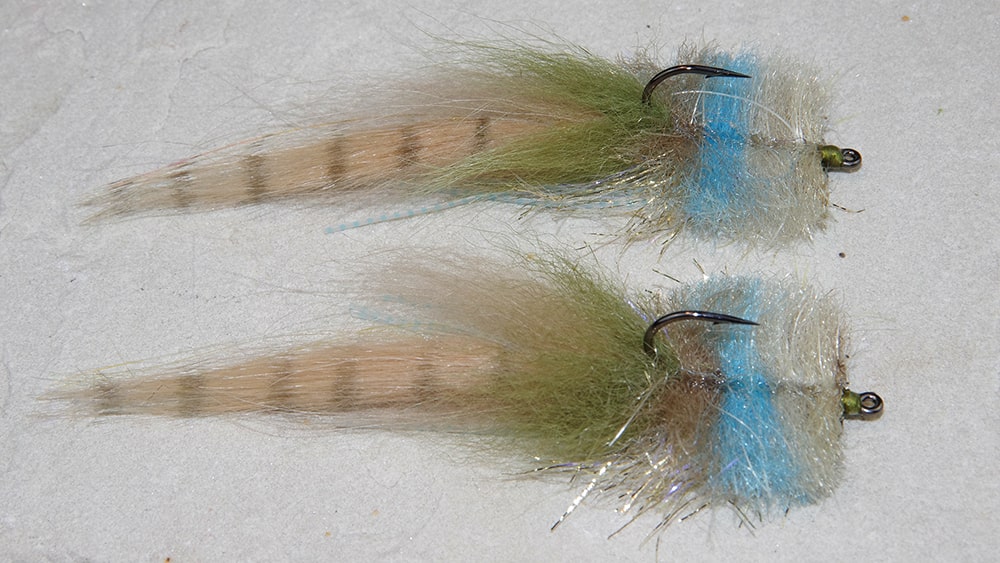 FISHING THE REDFISH TOUPEE FLY PATTERN

The fly has materials that move great in the water, and the fly pushes water as it falls with its massive crab body. With the weight that you add, you get a nice little kick to the fly. When we add articulation, this fly swims even better in the water and pushes water on the strip.
The real beauty of this fly is versatility. You have a fly that moves great when you strip the fly at a good pace through the water. Then if you have a fish that is moving really slowly on the bottom, you can let the fly sink and then pop the fly on the bottom like a crustacean. You'll receive some aggressive takes on this fly, but you'll also be able to tantalize big reds into munching your fly as well.
Hook: Ahrex SA 280 2/0 (used in video), Owner Aki 3/0, Partridge Attitude Extra 2/0
Thread: Veevus 140 black
Eyes: 1/30 oz. plated lead
Tail: Hareline extra select craft fur (chartreuse)
Tail Stripes: Permanent marker (purple)
Collar: Finn raccoon (purple)
Rubber Legs: Chartreuse (orange tipped)
Body: Diamond braid/Sparkle braid (purple)
Body weight: Flat lead
Toupee (crab back): EP Crustacean Brush (purple and black)
UV Resin: Solarez (thin)
Flexible UV Resin: Solarez (flexible)
Glue: Zap-a-gap
Gel Glue: Loctite gel
ALTERNATIVES/ADDITIONS
Tail Wrap: Purple 3″ EP brush or purple 3″ polar fiber streamer brush
Articulation: Old hook with cut-off point or articulated shanks
Tail Flash: Lateral scale flash