Nymph flies are without a doubt the most productive flies for catching numbers of trout. Because of this, there are thousands of nymph fly patterns available to you.
On top of this, fly anglers have shown success using only one nymph pattern, like Jim Teeny with his Teeny Nymph, while others have packed dozens of fly boxes full of the latest and greatest fly patterns. This fact shows that presentation is king, and limiting our patterns as much as possible is probably a better approach anyways.
So, with this in mind, here are some guidelines that I've used for over 30 years when selecting and tying nymph flies for trout, primarily in rivers. This approach has allowed me to catch fish on nymph flies from under one pound to trout over 15 pounds in virtually every type of river.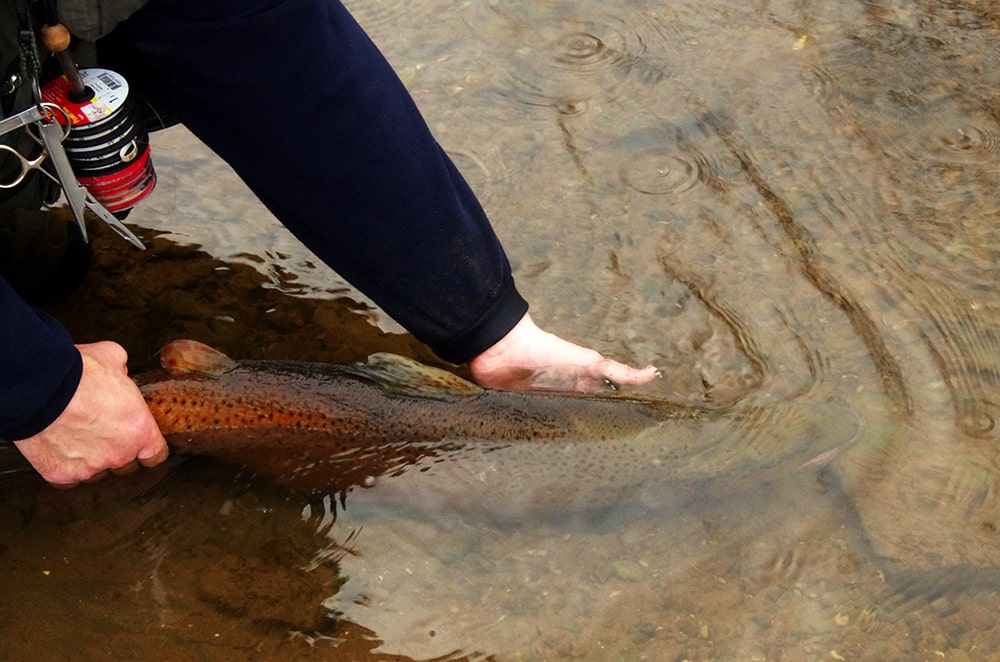 There is no textbook definition of "nymph flies." While we traditionally refer to mayfly, stonefly, damselfly, and dragonfly juveniles as "nymphs," we still use the word "nymph" or "nymph fly" to refer to essentially anything under the water that is not a large minnow/crustacean pattern that we normally retrieve or swing. Even this does not hold true since we retrieve small nymphs and chironomids in stillwaters.
For the purposes of this article, we will consider "nymph flies" as any subsurface pattern that is meant to be dead drifted across or near the bottom or suspended from a floating fly.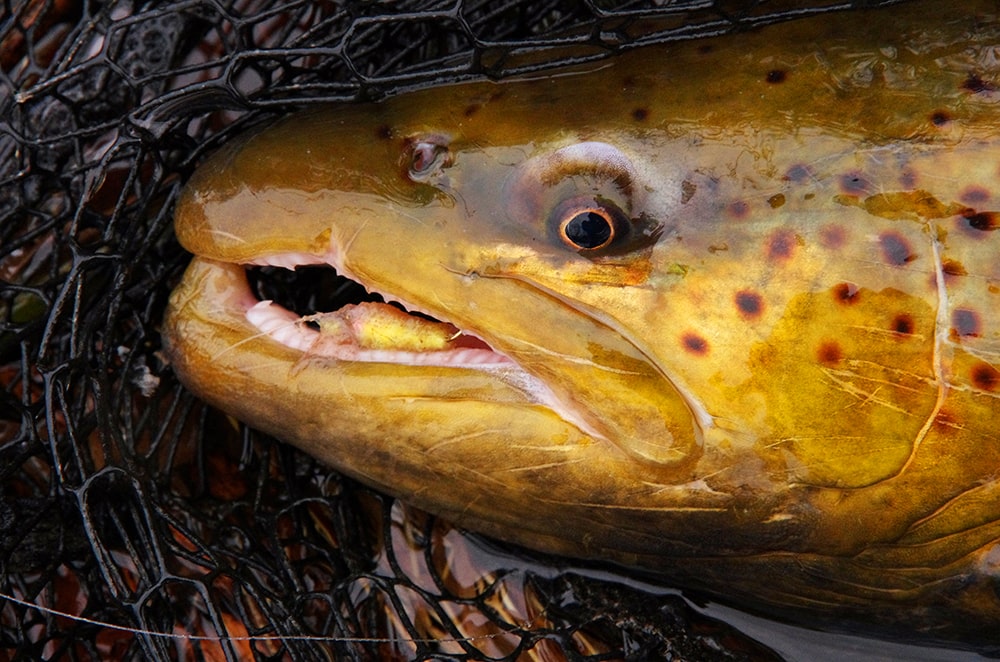 THREE TYPES OF NYMPH FLIES

You can classify nymph flies into three main pattern types: imitation, impressionistic, and attractor patterns.
IMITATION NYMPHS

Imitation nymphs imitate a particular insect, crustacean, minnow, egg, etc. Many of these patterns match a specific emergence stage of the insect, for example, larva, nymph, and pupa. The goal with these flies is to match the hatch. Simply put, the fish are keying on an insect, and you are matching that insect and stage, for example, midge pupa.
Other aquatic prey items like worms, sowbugs, and eggs are not hatches, but nymph flies for these items are often very close imitations, for example, a drifted bead egg and a San Juan Worm.
IMITATION NYMPH EXAMPLES
midge, mayflies, caddisflies, stoneflies, craneflies, sowbugs, scuds, and mysis shrimp
eggs, worms, pancora crabs, small crayfish, damselflies, dragonflies, small minnows (dead drifted), and even drowned terrestrials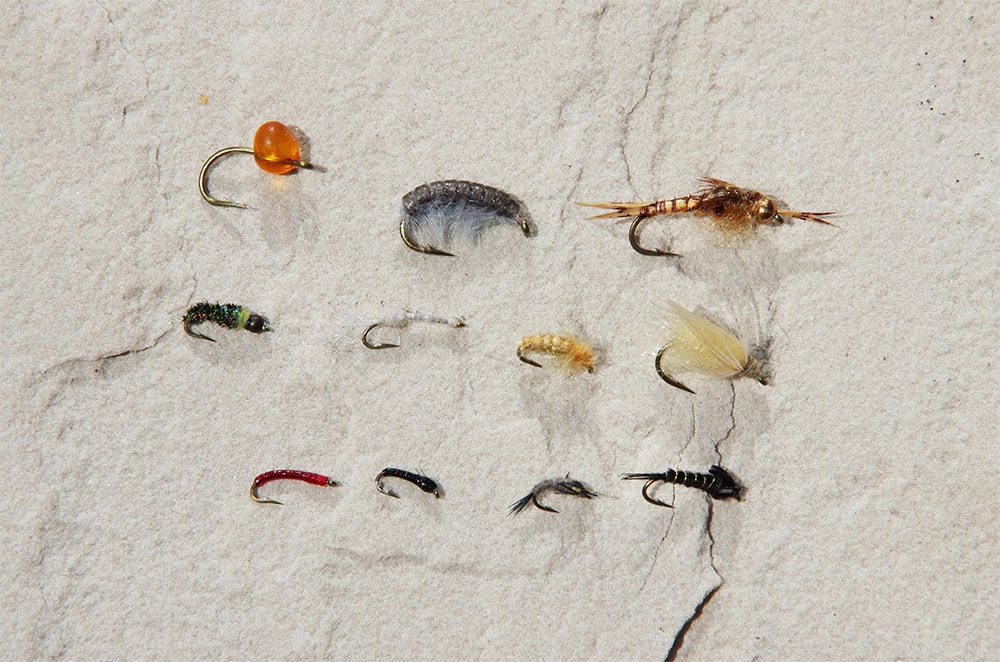 IMITATION NYMPHS MATCH NATURAL TROUT FOOD ITEMS QUITE CLOSELY.

IMPRESSIONISTIC NYMPHS

Impressionistic nymphs resemble aquatic prey items, but exact imitation is not the purpose of these flies. These nymphs represent a few prey items at once, but they are still fairly natural in their appearance.
For example, a bushy Hare's Ear is basically a mayfly nymph imitation. If you also have smallish sowbugs around and the fish are taking both before the mayfly hatch gets going, then the Hare's Ear will probably be more effective than an imitation pattern because you get the best of both worlds.
Impressionistic nymph patterns are more versatile than imitation patterns and give you more options in between hatches. You still might want to keep the size close to the natural prey items, but you have more wiggle room on size, profile, and other triggers.
Impressionistic nymph patterns are super effective because a full-blown hatch is often the exception and not the rule. There also may be many hatches at once, and you may need something to cover multiple types of insects at once.
IMPRESSIONISTIC NYMPH EXAMPLES
WD-40, Zebra Midge, some Perdigon nymphs, Hares Ear, HDA Fav Variant, soft hackles, Red Fox Squirrel Nymph, Pat's Rubber Legs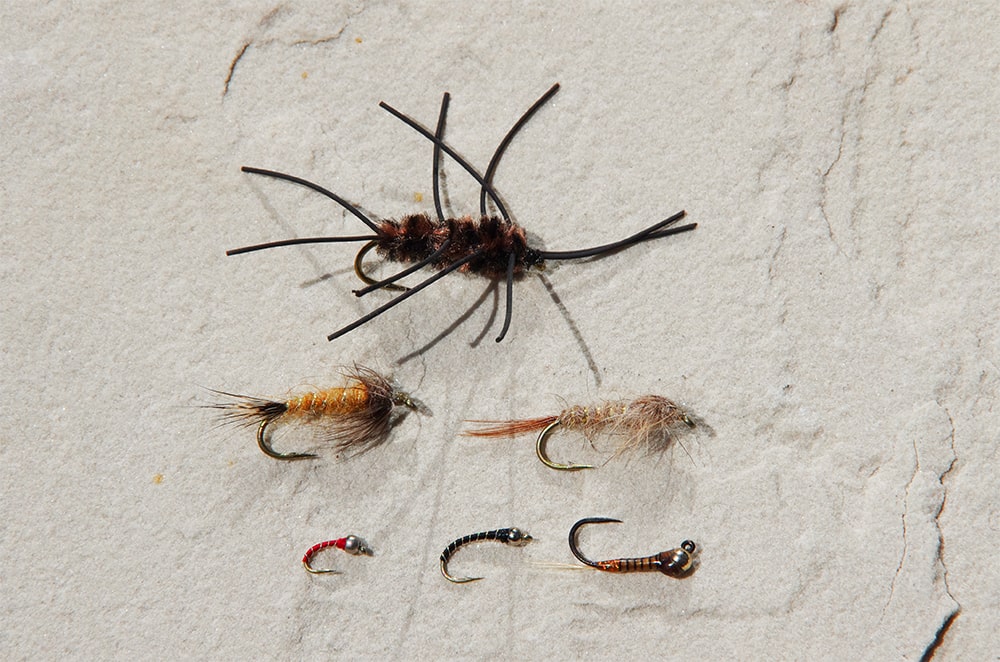 IMPRESSIONISTIC NYMPH FLIES RESEMBLE MULTIPLE FOOD ITEMS AT ONCE AND ARE MULTIPURPOSE TOOLS.

ATTRACTOR NYMPHS

Attractor nymphs are an exaggerated version of impressionistic nymph fly patterns, and they often have brighter colors and more exaggerated features. It is hard to quantify the difference between impressionistic nymphs and attractor nymphs. It's actually better to think of impressionistic and attractor nymph flies on a spectrum: WD-40 (impressionistic) on one end and a pink Steelhead Hammer nymph fly pattern (attractor) on the other. They both resemble an insect in profile, but the WD-40 is much more subdued and closer to exact imitation.
Attractor nymphs can also be large imitation nymphs, like eggs, worms, craneflies, brightly colored scuds and sowbugs, etc. These patterns can be a little oversized and serve to attract fish to them even when they're not hungry. The trout might refuse the attractor and eat a smaller impressionistic or imitation nymph pattern that you fish together with this attractor nymph pattern.
We differentiate these as "attractor nymphs" in this case since you're not necessarily matching any sort of food item that is in the water in high numbers. For example, if you fish an egg pattern in July, there aren't a lot of fish spawning at this time in the Northern Hemisphere, outside of Alaska. The fish still remember eggs and still eat them, even when there are none in the water. These nymphs are, therefore, attractor nymphs at this time.
IMITATION NYMPH EXAMPLES
Copper John, Rainbow Warrior, Lightning Bug, Princess Nymph, Prince Nymph, Psycho Prince Nymph, Chicken Little (chartreuse body)
Globug, San Juan Worm, pink sowbug, orange scud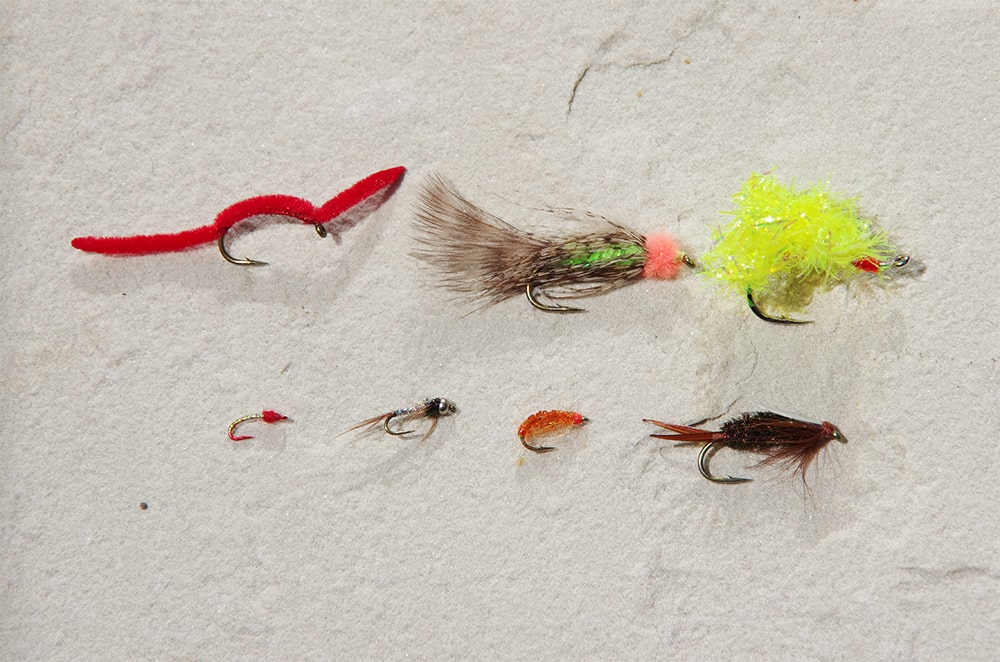 ATTRACTOR NYMPH FLIES PUSH THE BOUNDRY OF NATURAL FOOD AND APPEAL TO A TROUT'S OTHER TRIGGERS.

RIGHT TIME TO FISH NYMPH FLIES

Now that we understand the different types of nymph flies, we need to consider where we should use them and under which conditions.
SEARCHING OR TARGETING WITH NYMPHS

With all fly fishing, you normally have two options when fishing: are you searching for or targeting trout? Your answer will depend on a few factors: the size of the river, the amount of fish, whether or not you can see the fish (sight fishing), and water type, covered below.
In most instances, targeting trout equals imitation nymph flies and searching equals impressionistic and attractor nymph flies.
The larger the body of water the more likely you will have searching opportunities, particularly if there are few fish around.
The higher the fish density, the more likely you will know where the fish are and will, therefore, not have to search for the fish as much. If you can see fish regularly, you can concentrate on catching them much easier. This is a prime condition for sight fishing and targeting trout.
Before you tie on a nymph, consider whether you're searching or targeting.
ADJUST YOUR NYMPH SELECTION WHEN YOU ARE TARGETING VERSUS SEARCHING FOR TROUT.

HATCHES AND NYMPH FLIES

We should approach hatches with some general commonsense. During a hatch, the characteristics of the insects obviously affect the size, profile, color, etc., of your imitations, but the lack of a hatch usually opens up the opportunity to fish bigger, unless the stream is chock full of small stuff like micro scuds. You can fish dead-drift minnows and larger impressionistic nymphs like this, such as craneflies, worms, crustaceans, eggs, etc. Attractor patterns are great when there is no hatch.
Other nymph flies that we can fish, when a hatch is not going on and depending on the time of year, are midge larvae (winter and early spring) and more natural toned mayflies (they are darker at emergence). More impressionistic nymph patterns in general are excellent. For example, caddis larvae and even pupae (summer months) are everywhere and a good choice, and stonefly nymphs (late spring and early summer) are also great choices.
During hatches or an emergence, you can fish midge/mayflies as the darker pupa/nymph version of your flies, caddis pupae, and stones.
Along with this, during "drift phases" and at certain times of year, we can fish natural sowbug and scud patterns. Impressionistic nymph patterns, like soft hackles, can be great when there are a lot of insects in the water and the fish are feeding on multiple types of prey items, such as caddis pupae, sow bugs, scuds, drowned mayfly adults.
1) ONE HATCH

2) BEFORE A HATCH
Imitation nymph (nymph and larva) and/or impressionistic nymph
3) MULTIPLE HATCHES
Impressionistic nymph and imitation nymph together and refine
4) NO ACTIVE HATCHES
Impressionistic nymph and/or attractor nymph
5) NO ACTIVE HATCHES, ACTIVE SPAWNING, AND/OR ANADROMOUS FISH PRESENT
Attractor nymph and/or impressionistic nymph
FISHING IMITATION NYMPHS

Imitation nymphs are connected very closely to hatches, but they are also preferable under certain fishing conditions. Examine the table below.
If the trout are keying on a hatch, then we use imitation nymphs particularly in rivers with high fish populations. You can also change this up and fish an imitation nymph with an impressionistic or attractor nymph. Euro nymphers call the larger attractor fly, "the point fly." When fish are in between hatches or the fish population is small, then this is a great time to fish this combo.
Clear water, low water, sight fishing, and pressured trout are all great candidates for smaller imitation patterns. You can drift the pattern over the fish repeatedly, putting the smaller pattern right in their feeding lane. Obviously if you couldn't see the trout, then you should switch your approach.
IMITATION NYMPHS: USES AND EXAMPLES

One hatch or when trout are selective on a particular insect during multiple hatches
Clear water and/or low/moderate water depth
Pressured trout
Fished together with an impressionistic or attractor nymph
Sight-fishing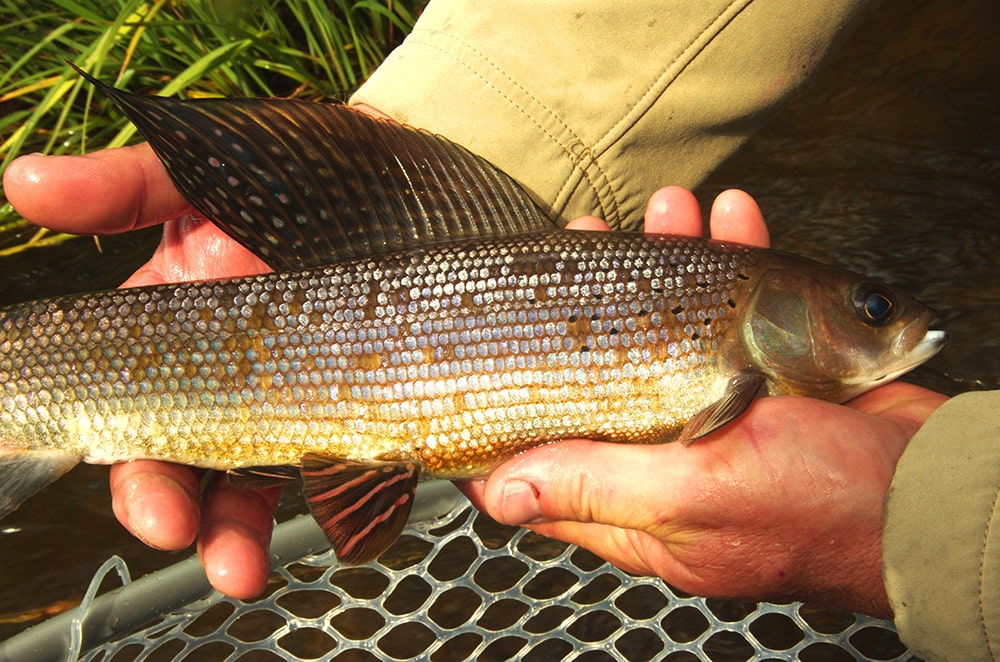 FISHING IMPRESSIONISTIC NYMPHS

As the conditions begin to change and the hatch becomes sparse or nonexistent, you can now switch to searching patterns. Impressionistic patterns are a good choice in this situation in addition to many others. See the table below.
Impressionistic nymph patterns are excellent for hatches. You can use them differently than imitation nymphs. For one, you can choose a pattern that represents multiple species of emerging insects and/or drifting prey items. A couple great examples are a WD-40 and a Hare's Ear for midge/mayfly and a larger mayfly and sowbugs/scuds respectively. You can fish the impressionistic nymph as the point fly with an imitation nymph to try and home in on what the fish are taking.
In a similar way, you can fish impressionistic nymphs before and after hatches to try and pick out the more aggressively feeding trout. This works very well if there are also larger prey items like sowbugs and scuds.
Impressionistic nymph flies are perfect for searching in virtually any water condition. They are effective on both pressured and unpressured trout as well depending on the size of the nymph. Pressured fish tend towards smaller nymphs, but the time of year and local hatches/prey items greatly affect this.
Finally, impressionistic nymphs work great when anadromous trout are present and in super clear and often shallow water.
IMPRESSIONISTIC NYMPHS: USES AND EXAMPLES

Multiple hatches present
Before or after hatches
Fished with an imitation or attractor nymph
Searching fly
Any water condition
Unpressured or pressured trout
Anadromous trout present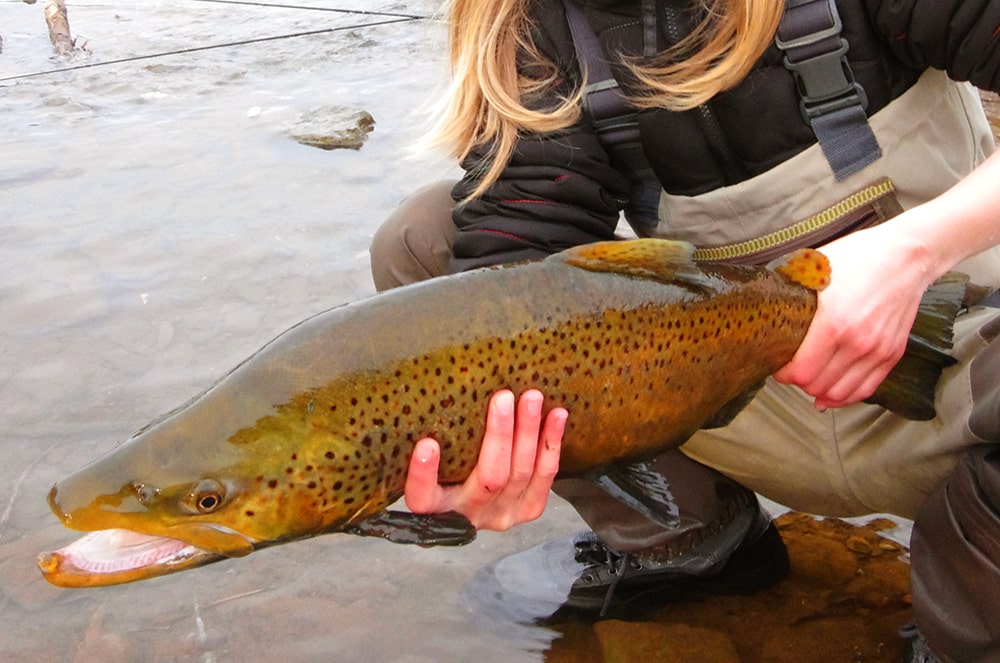 FISHING ATTRACTOR NYMPHS

Attractor nymphs are perfect for situations where impressionistic nymph flies are just a tad too boring and natural. When you need to really excite the trout, attractor patterns are the most affective pattern. See table below.
Trout must continuously experiment with food items based on curiosity, experimentation, etc. Attractor nymphs play on these instincts. Even adding elements of attraction to imitation and impressionistic nymphs can make them effective when you have thousands of naturals in the water. Your fly sticks out with attraction elements.
Attractor nymphs excel when trout are spawning and or when they are anadromous trout. The Great Lakes are a good example of this.
When trout enter the spawning stages of their life, they are particularly susceptible to brighter colors and pattern exaggerations.
At the same time, unpressured trout often prefer attractor patterns, again because they stick out. Any prey item that sticks out in nature dies.
You can fish an attractor nymph or multiple attractor nymphs alone or with an imitation or impressionistic nymph. This allows the nymph to act as a super effective searching pattern with a more natural pattern to balance it out.
Finally, in high off-colored water, attractor nymph patterns are the preferred option. They get your nymph in the game and allow you to not only catch a few fish but at times catch all the fish in the river.
So, imitation, impressionistic, and attractor nymphs have their ideal conditions, but you can even refine this more by optimizing nymph design for your fishing presentation.
ATTRACTOR NYMPHS: USES AND EXAMPLES

High and/or off-colored water
Unpressured trout
Spawning trout present
Anadromous trout present
Fished with an imitation or impressionistic nymph
Searching fly
NYMPH FLIES AND FLY FISHING PRESENTATION

How you select nymph flies will largely depend on the technique that you are using because certain nymphs match with particular techniques better. There are two main ways to fish nymphs: dead drifted and moved. We are focusing on dead-drift nymphing of course.
Within dead-drift nymphing, you have mainly three techniques: dropper fishing, indicator/sighter fishing, and tight-line nymphing (euro-nymphing, etc.). Sinking your flies in all of these techniques is critical, but with two of these techniques (dropper and tight-line nymphing), weighted nymphs are very important. With indicator fishing, weighted flies are totally optional and, in some instances, not ideal. Note you have a few nymphing techniques, like bead fishing, that have an almost sweeping movement and use very specific "flies." We'll omit these techniques from consideration.
SINKING YOUR NYMPH FLIES

With nymph flies, you need to consider two main features for sinking: weight and profile. Other aspects of your presentation will affect this as well, such as tippet diameter, knot choice, and added leader weight.
When it comes to weight on your nymphs, the more weight you have on your fly the faster it sinks—pretty obvious stuff here. Aspects of your fly that affect weight are hook weight/diameter, quantity of added weight to the nymph (bead head, lead wire), and material of the added weight (lead, tungsten, brass, etc.).
Profile is another major way you can sink your flies faster. A super clean and slender body will sink much faster than a bushy wide body. An example of these extremes would be a Perdigon nymph and a sucker spawn nymph fly. A Perdigon nymph is basically a hook covered in acrylic/epoxy. Sucker spawn is almost a frisbee and takes quite a bit of time to sink to the bottom of the stream.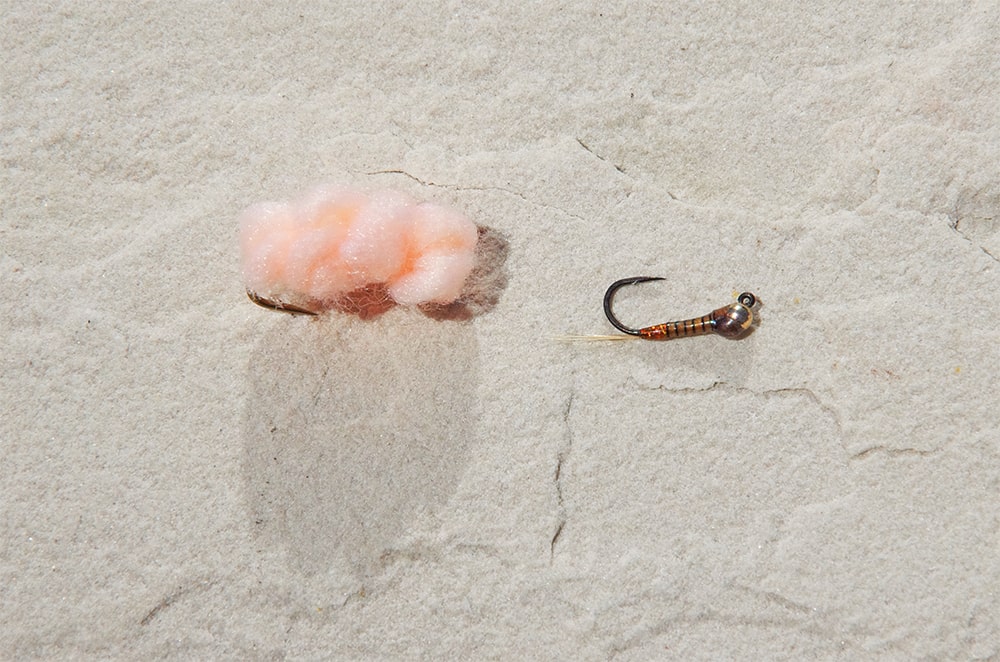 NYMPH FLY DESIGN AND SINKING CHARACTERISTICS AFFECT PRESENTATION GREATLY.

JIG HOOKS OR STANDARD HOOKS WITH NYMPHS

In the last five to ten years, jig-style hooks have become very popular, particularly with tight-line/euro-nymphing fishing approaches. Each of us has our own preferences when it comes to nymphs, but you will find that most nymph anglers have at minimum a mix of jig style hooks and standard nymph hooks.
A jig hook will definitely ride hook point up, and because of this, you have a fly that is somewhat more weedless. However, most nymph hooks ride hook up to a certain degree, so this might not be that big of a deal.
The biggest advantage to using nymphs with jig hooks is that they come with many different weights and have some very high-quality hooks. These hooks are often well designed as well, coming with a wide gap and sharp hook.
So, if you are using tight-line nymphing, you will probably use many nymph flies with jig hooks. If you fish with indicators, you can still fish with these patterns, but they are not required at all.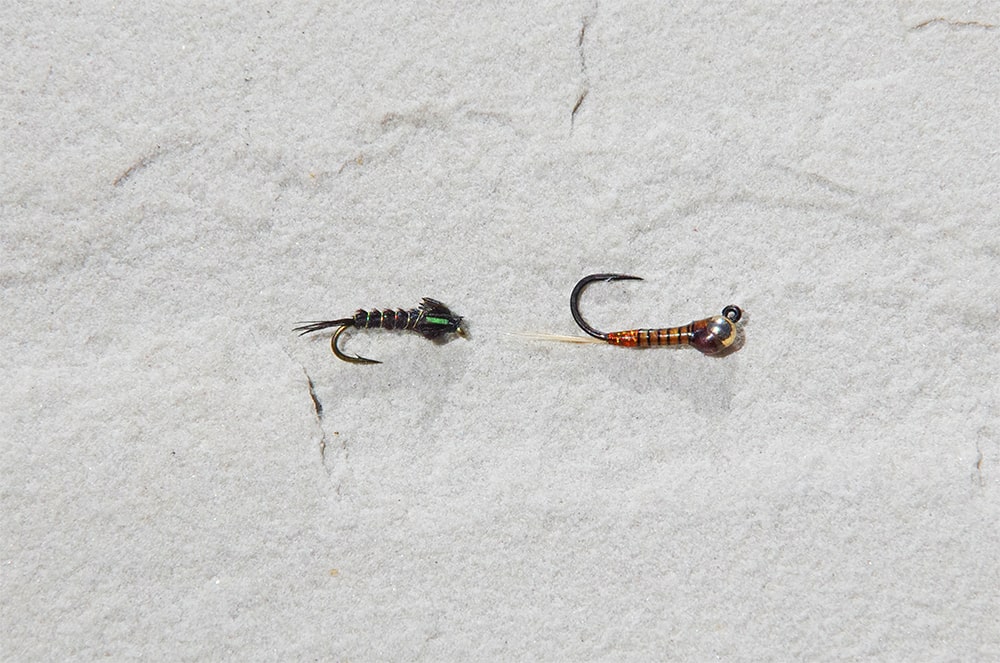 PARTS OF RIVERS, WATER FLOW, AND FISH LOCATION

How you match your nymph flies to water conditions and river configuration can have a strong effect on your fishing success. It is the most fine-tuned aspect of selecting nymph flies, but it can make the difference when fish are holding in a specific water type or feeding in a selective way.
There are six main types of water on any given river that is not so big it begins to resemble a lake: runs, pocket water, riffles, flats, slicks, edges, and pools. These are more or less listed descending from fastest water speed.
I will assume that you know what each of these water types is, but to be clear, "flats" are simply that, areas of a river that have more or less a uniform surface with a moderate water speed. "Slicks" are areas behind boulders, islands, or really any obstruction, and "edges" are basically that, the banks of each side of the river in addition to water moving right up onto an island, etc. All seven of these parts of the river provide unique aspects with respect to water speed, depth, and turbidity, which you can see from the table.
It should also be noted that bottom content and cover will affect where a fish is holding tremendously within these particular types of water, i.e., if there is a boulder or a trench within a run, this fact will obviously affect how fish use that piece of water.
Fish use these areas at different and predictable times, so it's important to learn these features and the times fish use these parts of the river.
| WATER TYPE | WATER SPEED | DEPTH | MOTION |
| --- | --- | --- | --- |
| RUNS | FAST-MODERATE | DEEP-MODERATE | HIGH |
| POCKET WATER | FAST-MODERATE | SHALLOW | HIGH |
| RIFFLES | MODERATE | MODERATE-SHALLOW | MODERATE |
| FLATS/TAILOUTS | MODERATE-SLOW | MODERATE-SHALLOW | LOW |
| SLICKS/EDGES | MODERATE-SLOW | DEEP-SHALLOW | LOW |
| POOLS | SLOW | DEEP | LOW |
TROUT ACTIVITY AND NYMPH FLIES

These types of water are also associated with the main activities of a trout. Take a look at the table below to see the general activities and locations of trout during these times of feeding, spawning, resting/sulking (RS), and testing (receptive but not actively looking for food). Make sure you take into consideration the general water conditions: water level, water clarity, and the presence of hatches.
Midge/Mayflies as the darker pupa/nymph
Caddis pupae, stoneflies
Natural sowbug and scud patterns
Soft hackles (many prey items in the water)
Midge larvae, more natural-toned mayflies
Caddis larvae and pupae, stoneflies
Craneflies, worms, crustaceans, eggs
Attractor patterns
Minnows
More impressionistic patterns
To this point, you know what type of nymph flies you'll be using (imitation, impressionistic, or attractor), how nymph design will affect your presentation, and the types of water your nymphs will be in. The final piece of the puzzle is to look at nymph triggers.
There are five main triggers: size/proportion, profile/shape, color, flash, and movement, and these triggers are normally better suited for specific types of water and conditions. Note that I have rarely if ever encountered a situation in which "exact imitation" is a reliable trigger. Thousands of naturals that look exactly like your fly are in competition. Normally, you need a slightly different characteristic to trigger the trout.
SIZE/PROPORTION OF NYMPH FLIES

Size and proportion are probably the most important factors of selecting nymph flies. You can get away with a lot of things with a nymph fly pattern, but if you are way too big or small, you're going to have a long day on the water.
The biggest factor for deciding size is the predominance of prey species in the watershed. You should go bigger when lots of big stuff is in the water or river in general but also in faster water, murky water, warm water, and when you're searching rather than sight-fishing.
The surer you are where the fish are, the smaller your nymphs can be. As pointed out above, pressured water often requires smaller flies.
Finally, sulking and resting fish can be coaxed with either large or small flies depending on a lot of factors. Sometimes a big meal is just too much to pass up, particularly when the fish's metabolism is up. At other times, a small "harmless" nymph presented right on the fish's nose will do the job. As much as we all want nymph fly selection to be like a cooking recipe with totally predictable results, that is unfortunately not reality.
Fishing pressure usually necessitates smaller flies or larger flies like streamers for the real predators of the stream. So, consider these generalizations for nymph fly size.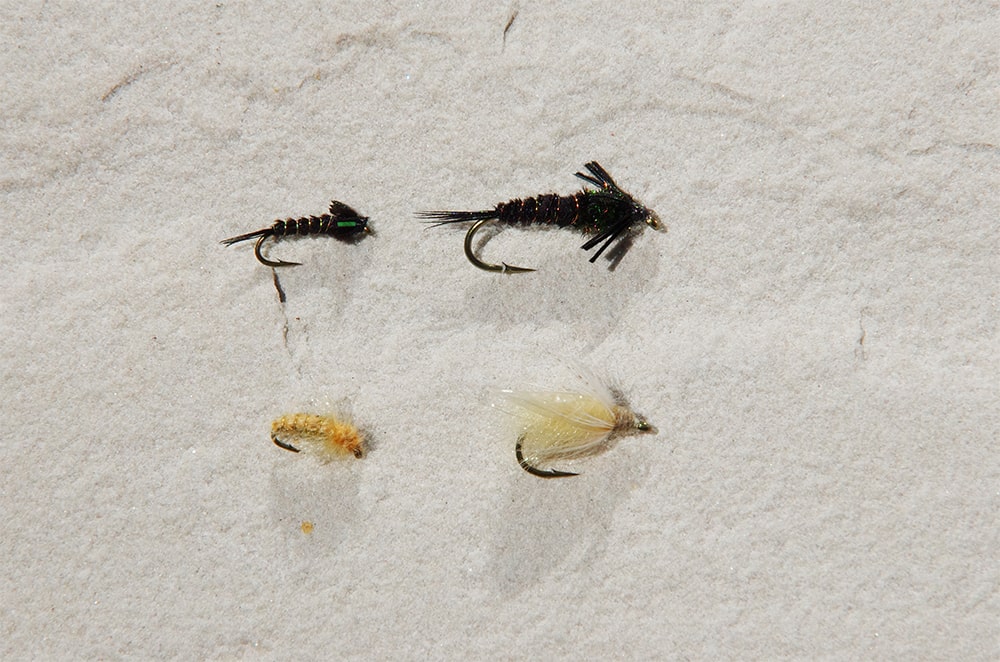 FLY ANGLERS KNOW SIZE IS CRITICAL, BUT PROPORTION CAN BE EQUALLY AS IMPORTANT.

PROFILE OF NYMPH FLIES

Profile is hugely underrated and may be the most important trigger within reasonable parameters (general color). The reason for this claim is that profile is important with both smaller and larger flies. That's why ten different guys, fishing ten different fly patterns, but with the same shape, catch fish. Profile is a very powerful trigger on trout.
As an example of profile's effectiveness on animals in general, my grandpa used to make duck decoys that were nothing more than silhouettes consisting of black spray-painted pieces of wood. The shape or details, like our shadow, are the first thing we notice when someone approaches, and then we fill in the details as they get closer. From quite far away, both we and the trout gain tons of information based on profile. Trout are even more dependent on this general information. [source]
In fast water, trout don't have the luxury of inspecting the fly, so the shape has to trigger the fish to look. This is most often all you need since the trout must make a decision or lose the food to the current. In slow water, the fish gains interest and only sometimes commits fully, simply on the shape. Many times you must use other triggers in slow water. The trout has all day to follow the pattern. You can watch the trout do this on rivers like Utah's Green River.
The profile of our nymph flies is so important and can be affected by other features like flash and color.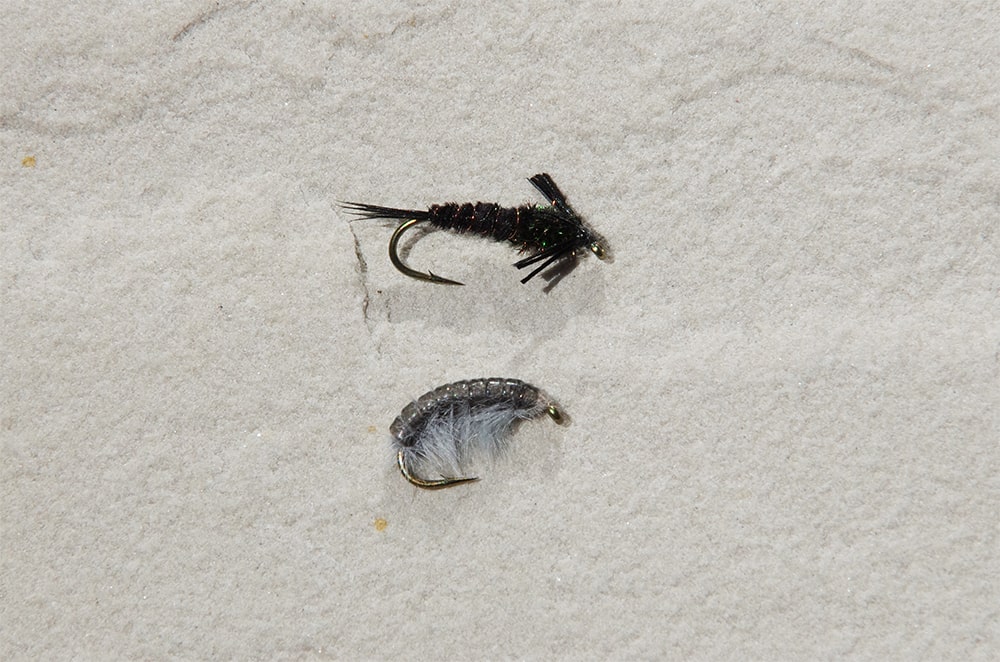 TROUT OFTEN HAVE WORSE VISION THAN WE THINK, PROFILE, SIZE, AND PROPORTION ARE CRITICAL ON ALL FLIES.

COLOR OF NYMPH FLIES

I find color to be less important within reason with nymphs unless you are talking about eggs, anadromous species like steelhead, or spawning fish. I do, however, feel that color is hugely important with respect to shades of light and dark. Dark patterns accentuate profile and are easier to see in deep water and against most backdrops.
This is super easy to see. Imagine a fish with a dark back or a fish with a lighter back moving through the water. It's much easier for us to spot the dark-colored fish. For this reason, darker patterns (blacks, browns, dark olives, dark reds, etc.) are best when profile is most important. Also, during emergence, insects usually get darker in color anyway.
I have found that lighter colors are more productive on sunny days, because fish can see more of the detail when the sun is out, but dark colored patterns can be equally effective on these days, probably because of the accentuated profile in current. Situations where light penetration is high make lighter colors more effective than they would be in a situation with less light penetration.
When you are fishing on a highly pressure body of water, you may want to try lighter patterns particularly in sight-fishing situations. Also, bright chartreuses, etc., can be seen in murky or deep water, so experiment. The color of the naturals should always influence your fly choice since this may be a major trigger, particularly with bigger insects.
All that being said, when in doubt, I go darker.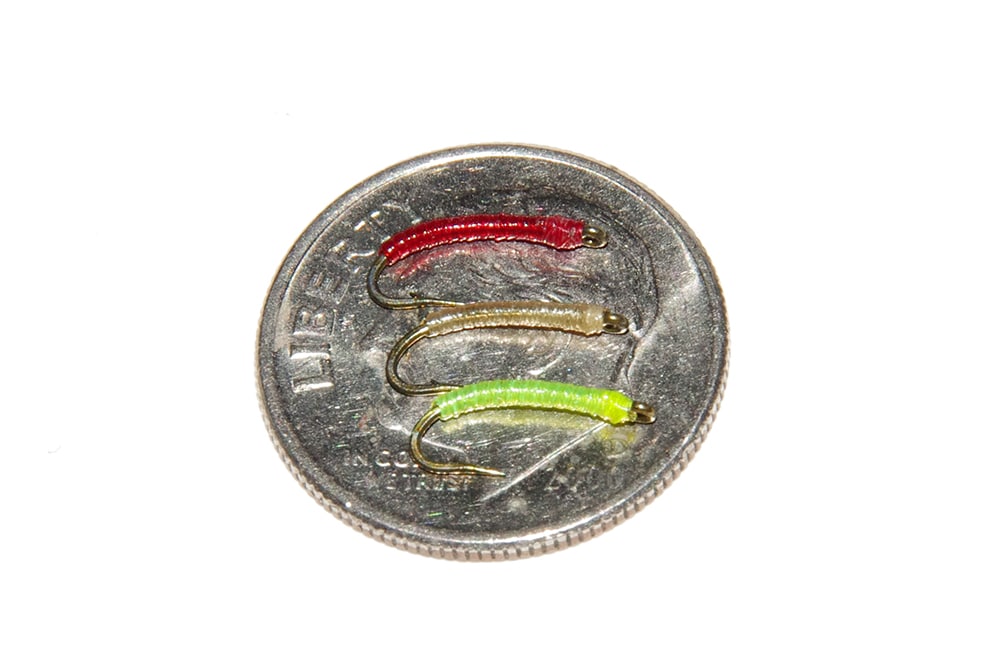 FLASH ON NYMPH FLIES

When we see a flashing light or a little glimmer, our eyes are drawn to it. It's the same thing with fish. This can be either good or bad, depending on the situation, but flash is as difficult a trigger to predict as anything, so experiment on a given day.
There are some guidelines for flash when I hit the water that have been pretty consistent for me. Flash is most effective in slow to moderate flows. This is for two main reasons: 1) in fast water, a nymph can get lost in the commotion if it has a lot of flash, and 2) a fish can see the source of this flash in these slower flows much easier.
Shallow and clear water actually makes more sense with flash as well, since light penetration diminishes at depths and when there is poor visibility. You can put flash on the fly, but it doesn't matter if light penetration isn't high enough.
Finally, when insects emerge, they move more and can generate air bubbles during the emergence. This makes flash a little more natural at these times and may be a trigger during the emergence to get the fish's attention. A caddis emergence is a prime time of this.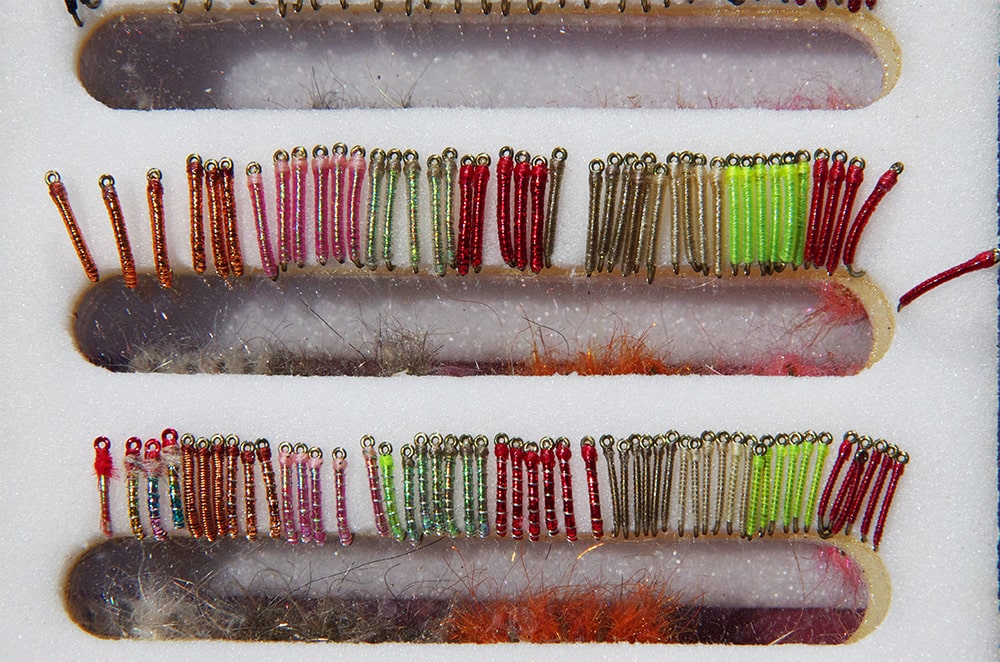 MOVEMENT WITH NYMPH FLIES

Movement with nymphs is somewhat underrated. I am not talking about the various presentations that can be used with nymphs but rather the inherent movement found in a given fly, say a fly that is articulated. If you examine nearly any insect larva, pupa, or nymph you will see movement. Fish see this too, and movement in a nymph will give you an advantage if no one else is doing it.
For nymphs with movement, slow to moderate flows are the best. Like with flash, you don't get the benefits in fast water, since there is so much movement already. In fact, more or less the exact situations are best for both flash and movement (shallower and clear water, when insects emerge, as a specific trigger), since these triggers need light to really shine, pun intended.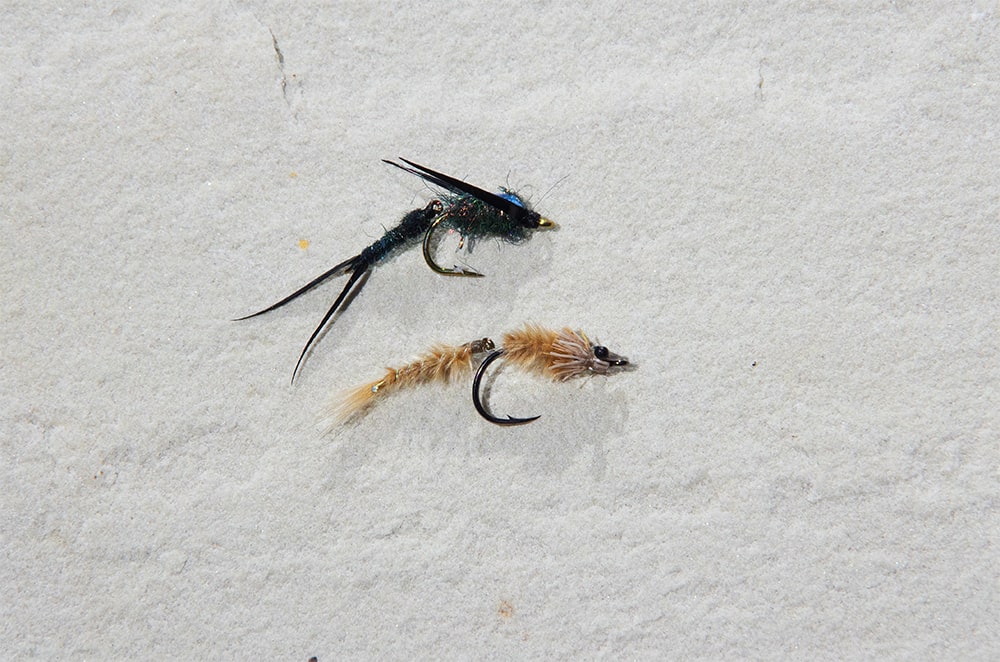 SMALLER, PROFILE, FLASH, MOVEMENT, NATURAL
Shallow Runs, Riffles, Flats/Tailouts
Slicks/Edges (unless deep), Pools (unless deep)
Shallow, Clear, Slow
Pressured, Sight-Fishing
Waters with predominantly smaller prey
LARGER, PROFILE, DARK/BRIGHT COLORS
Runs
Pocket Water
Deep, Murky, Fast
Little Pressure, Searching
Waters with predominantly large prey
This is a lot of information about nymph flies, but some days it makes all the difference. More than anything, this should help you to fish with more of a purpose and have some sort of rhyme and reason to why you might change your nymph flies from one nymph to another.
If the information here is overwhelming, then just use one or two concepts and adjust over the months and years. We all want to catch more fish, but fly fishing shouldn't be stressful if we don't want it to be.
Nymphing is the most effective method to catch fish year-round. Master nymphing and you'll catch fish in almost any condition you encounter.